MOTs in Welling – Claremont Motors will service, repair or MOT your vehicle quickly at your convenience. Delivering the best possible service and value every time.
The motor vehicle is the necessity in modern life whether used for work, socially or the school run it is an integral part of the household.
Ensuring your vehicle is roadworthy is imperative both for one-self and other road users. By making sure your vehicle runs at optimum performance improves both the fuel efficiency and increases the life of the vehicle.
We at Claremont Motors Welling at 53-55 Upper Wickham Lane recognise the importance of the motor vehicle in your day to day life. Claremont Motors Welling is a government approved VOSA, vehicle operator services agency, garage as well as being a certified MoT centre.
All are technicians are fully qualified and adhere to the strict guidelines set by the Motor Industry Code of Practice, for complete customer peace of mind.
Claremont Motors Welling employs highly skilled vehicle technicians who use the latest diagnostic testing equipment to quickly and accurately appraise your vehicle. We only use parts that match the manufacturer's original specifications and have the most modern technology from laser wheel tracking to welding equipment to complete any work required on your vehicle.
Click the image to make a simple booking for your MOTs in Welling;
Claremont motors Welling operate a clear transparent price structure and guarantee to beat any written quotation. Whether your vehicle is a 4 wheeled private car, a small van, a 4×4 or an MPV we charge a flat £29.95 for a MoT.
Book a full service and MoT for £120 for any make or model of vehicle inclusive of parts, labour and vat and pay only £0.99 for your MoT. Alternatively book an interim service for only £105 inclusive of parts, labour and vat and pay only £20 for your Mot.
We have a dedicated MOT Auto test lane to ensure all the work we carry out is to the highest specifications. Simply contact the branch on 0208 8542325 or fill in the online booking form and we will contact you to discuss your requirements.
We will collect and return your vehicle at a time of your choosing, carry out all works present you with your MOT certificate and stamp your service book to maintain your vehicles service history.
As well as MOT and servicing Claremont motors Welling provide a range of services for all your motoring requirements. From air-conditioning, metal work, body work or a re-spray we can cater for all your vehicles needs.
"Not only do they MOT my car but when I had a crash they recovered my vehicle free of charge"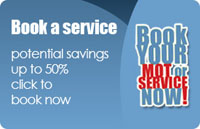 At Claremont motors Welling we are totally focused on providing you and your vehicle with the best possible service. We pay attention to all the details to give you complete assurance in our work. We maintain the highest standards from the first query to the final thorough clean before we return your vehicle.
MOTs in Welling – We at Claremont's are confident in our professional service tailored to your individual requirements as we realise the necessity of a reliable and safe motor vehicle.
Contact Us now to make an enquiry or book a service or MOT.